fman on Linux is out
After an intense month of development, I'm finally able to fulfill a promise made many times on this blog: fman is out on Linux!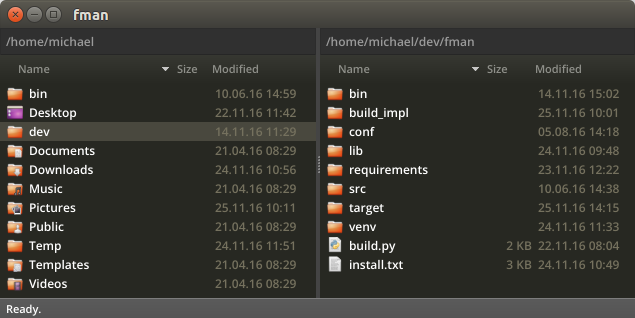 If you are a member of the closed alpha program, then you should have already received the download link via email. If not, then you can still sign up via the "Request early access" button on the home page.
Currently supported are 64-bit Linux distributions based on Ubuntu 12.04 and higher. If you want support for a different Linux version, please let me know.
The default key bindings are the same as on Windows. For an overview, please see here.
Similarly to the previous Windows and Mac releases, considerable effort went into implementing automatic updates. The Linux implementation uses Ubuntu's package manager. By default, fman checks once a day if a new version is available. If yes, it is automatically installed. To force an update check right now, you can also use the following command in a Terminal:
sudo update-fman
The next weeks are devoted to ticking off as many points from fman's feature requests list as possible. Issues will be prioritised by how many votes they have received and by how easy they are to implement (so two trivial 3-point issues will be given preference over one hard 6-point issue):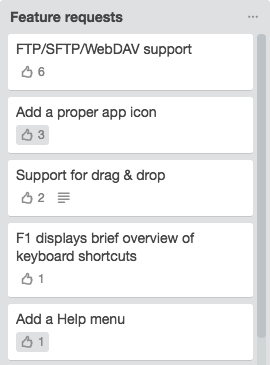 After that, the next big step will be to (finally) make fman public. Given the already very positive reception of fman, I am hoping that this will truly make it explode in popularity. However, there is quite some work to do before then so I estimate that fman will only become public in (or at the end of) Q1 2017.
As always, I would love to hear any feedback you might have. If there's anything you would like to see or change in fman, please just get in touch!